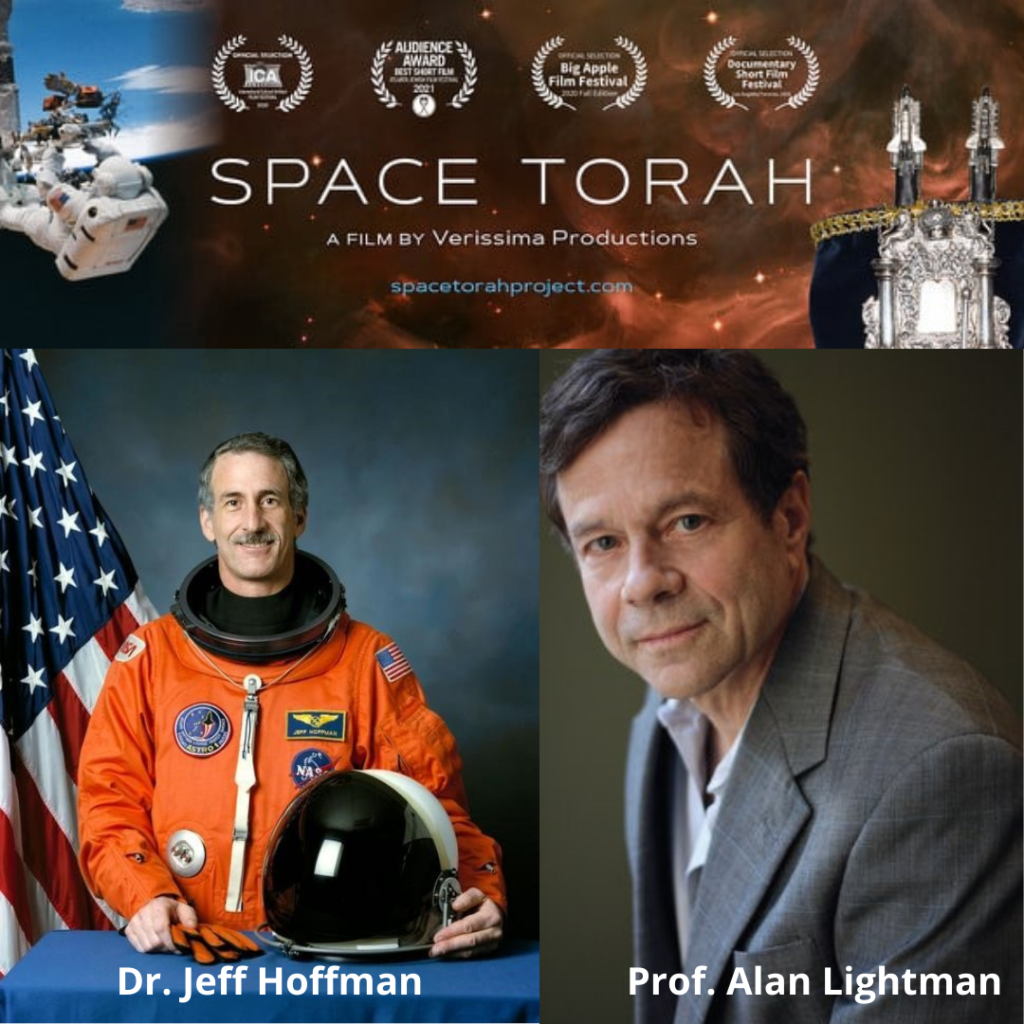 Sunday, December 5, 2021
3:00 – 4:30 pm

In-person at Kerem Shalom and online
To register for the Zoom link, CLICK HERE
KS members only: If you are considering attending in person, you must email:

L.E.D. Presentation (Learn, Explore, Discuss)
In 1996, NASA astronaut Dr. Jeff Hoffman brought a small Torah scroll on board Space Shuttle Columbia. On Shabbat, while orbiting Earth, he read from the book of Genesis, "In the beginning God created heaven and the earth."
We invite you to join the Kerem Shalom community on Sunday, December 5, to watch the inspiring documentary, Space Torah, about Hoffman's journey into outer space. After the screening, Hoffman and KS member Alan Lightman will discuss the many dimensions explored in the documentary—religious, spiritual, scientific, educational, and personal. Rachel Raz, an educational consultant and the documentary's executive producer, will moderate the discussion. Time will be included for viewers in the audience and on Zoom to pose questions. Following the program, we will light the menorah and celebrate Chanukah together.
Jeff Hoffman, Professor of Aeronautics and Astronautics at MIT, became a NASA astronaut in 1978. He participated in five space missions and performed four spacewalks, including the initial repair/rescue mission for the Hubble Space Telescope. He was the first Jewish American to journey into space.

Alan Lightman, Professor of the Practice of the Humanities at MIT, is a novelist and essayist (author of 25 books), a distinguished physicist, and humanitarian. In 2003 he founded the Harpswell Foundation, a nonprofit organization whose mission is to empower a new generation of women leaders in Cambodia and the developing world.
Both Hoffman and Lightman have received numerous accolades and awards—many for their extensive creative work at the intersection of the sciences and the humanities. This is the first time these two professors, pioneers in their fields, have appeared together to discuss the issues and ideas raised in the film and the subject of Judaism and spirituality in the era of space travel.
Join us for what promises to be a memorable "out-of-this-world" experience.