Hebrew School in a Pandemic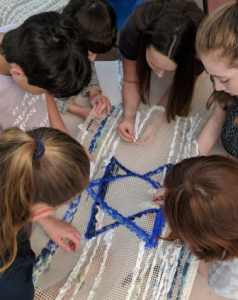 Every year, Kerem Shalom offers a dynamic, once-per-week Hebrew School program that empowers our students to find their own path to an authentic relationship with their Jewish heritage and identity.
Kerem Shalom's commitment to the joyful, Jewish engagement of our member families, and the corresponding priority placed on a strong education program for our children, are not diminished during the COVID-19 pandemic. To fulfill this mission safely and meaningfully during these challenging times, we are holding our Hebrew School programs online, minimally through December 2020. This applies to Holiday Preschool and Hebrew School for grades K-7.
This year, our main priorities are:
Students and families are physically and emotionally safe
Students and families feel a sense of belonging and connection
Learning will engage students' whole selves and will be joyful
Families can live Jewishly in their own homes
Parents/guardians will have flexibility to participate in their children's learning experiences
To meet these goals, we will create strong and engaging online learning experiences, we will gather feedback on an ongoing basis, and we will provide additional support, training, and resources for our teachers.
All online classes will meet via the Zoom video conferencing platform, and families will receive links in advance of the start of the year. See below for the particular schedules for each cohort.
For the overall 2020-2021 Hebrew School calendar, please CLICK HERE.
Students of all ages and their families can expect:
Age-appropriate lengths of Zoom time
Movement and screen breaks
Hands-on activities and games
Personal connections with other students and their teachers
Time with Rabbi Sam, Nancy Kaplan, and Rabbi Darby
Optional small-group or one-on-one Hebrew practice (sign-up information coming soon)
Receiving a toolbox of supplies and books for use during class sessions
At home, self-guided offline activities
Grade-level family programs on select Sundays
Kerem Shalom is committed to making our programs accessible to all members of the community, including our Hebrew School programs. We continuously work to support the diverse learning styles of all our students, and as a member congregation of the Sudbury Valley Jewish Special Education Initiative, we are able to offer individualized attention to students who require specific learning accommodations.
CLICK HERE to register for Hebrew School
CLICK HERE for more on Kerem Shalom's mission of inclusion.
For Frequently Asked Questions, please CLICK HERE.
With questions or for information about registration, please contact Rabbi Sam, Director of Congregational Learning, at . We look forward to an exciting year of learning and living Jewishly together.
Schedules
Holiday Preschool
Meets monthly on Sunday mornings, on the following dates:
September 27
October 18
November 15
December 6
January 24
February 7
March 14
April 11
May 16
Online Class Time: 9:45-10:30am
All sessions will be recorded. If your young one (or you!) need a break, you can watch the rest of the session and finish the project and story when you're ready.
Kindergarten
Meets weekly on Wednesday afternoons, beginning October 7
Online Class Times:
4:25-4:50pm Kindergarten Class
[4:50-5:00pm Screen Break]
5:00-5:15pm Kehillah (Community) Time, with grades K-3 together
Total Zoom time = 40 minutes
1st Grade
Meets weekly on Wednesday afternoons, beginning October 7
Online Class Times:
5:00-5:15pm Kehillah (Community) Time, with grades K-3 together
[5:15-5:25pm Screen Break]
5:25-5:50pm 1st Grade Class
Total Zoom time = 40 minutes
2nd Grade
Meets weekly on Wednesday afternoons, beginning October 7
Online Class Times:
5:00-5:15pm Kehillah (Community) Time, with grades K-3 together
[5:15-5:25pm Screen Break]
5:25-6:00pm 2nd Grade Class
Total Zoom time = 50 minutes
3rd Grade
Meets weekly on Wednesday afternoons, beginning October 7
Online Class Times:
4:15-4:50pm 3rd Grade Class
[4:50-5:00pm Screen Break]
5:00-5:15pm Kehillah (Community) Time, with grades K-3 together
Total Zoom time = 50 minutes
4th-6th Grade
Meets weekly on Monday afternoons, beginning October 5
Online Class Times:
4:15-4:50pm Grade-Level Class
[4:50-5:00pm Screen Break]
5:00-5:25pm Kehillah (Community) Time, with grades 4-6 together
Total Zoom time = 60 minutes
7th Grade
Meets weekly on Monday evenings, beginning October 5
Online Class Times:
6:30-7:00pm Class Period 1
[7:00-7:10pm Screen Break]
7:10-7:40pm Class Period 2
Total Zoom time = 60 minutes
Faculty
Our dedicated staff has years of teaching experience and a commitment to professional development. In addition to faculty workshops and peer observations, our staff participates in many types of professional development including research for Better Teaching and programs through Combined Jewish Philanthropies Education Initiative. Our staff has the same commitment to growing and learning that we have for our children.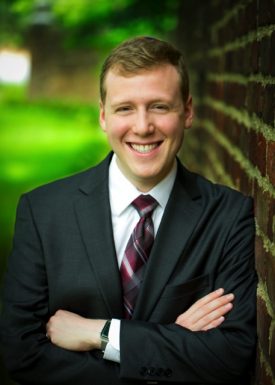 Rabbi Sam Pollak
Director of Congregational Learning
Rabbi Sam Pollak joined Kerem Shalom in July 2020. He received a BA in philosophy and comparative religion, at The Ohio State University, where he held leadership positions at Hillel and sang in a Jewish a cappella group. He attended Hebrew Union College Jewish Institute of Religion where he received a MA in Hebrew Letters and was ordained as a rabbi in 2017.
He most recently served for three years as one of the rabbis at The Community Synagogue in Port Washington, New York, where his responsibilities included teaching religious school classes and Torah study; leading early childhood classes; establishing an adult education initiative; creating a group to guide interfaith families; serving on a newly formed inclusion committee; and officiating life cycle events. During his rabbinical studies, Sam worked at a number of small congregations in the Midwest.
"I am thrilled to join the Kerem Shalom community, and I am inspired by how the congregation and the Hebrew School emphasize joyful, inclusive Jewish life," shares Rabbi Sam. "I look forward to meeting everyone and working toward that vision together.
He was raised in Cincinnati, Ohio, and is moving to the Greater Boston area with his husband, Rabbi Ari Abelman, who grew up in Lexington, MA.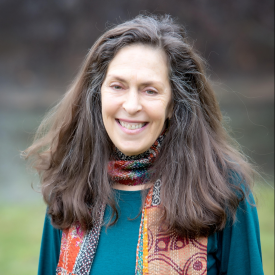 Nancy Kaplan
Family Engagement Specialist
Nancy Kaplan joined Kerem Shalom as a member in 1999 and as Family Educator in 2002, after a year of teaching in Kerem Shalom's Hebrew School. Prior to coming to Kerem Shalom, she was a religious educator in Rapid City, South Dakota's Synagogue of the Hills.
Nancy has a Masters in Medical Illustration from the University of Michigan and a B.S. in Biology from Tufts University. She completed the Jewish Family Education certificate program at Hebrew College.
Nancy leads Kerem Shalom's monthly Tot Shabbat services and works with Rabbi Sam on Kerem Shalom Family Programs. She is the religious school music educator, teaches the Social Action and Sacred Jewish Music curricula during the b'nai mitzvah year, and runs Kerem Shalom's annual community-wide Mitzvah Day. She also plays the piano in the Mostly Music Ensemble during Kerem Shalom's Mostly Music Shabbat services. She has also led Kerem Shalom's monthly TELEM teen volunteer program at Household Goods in Acton.
Nancy and her husband, George, live in Acton with their dog Benny. They have two adult daughters and one son-in-law.
Programs
hidden
Holiday Preschool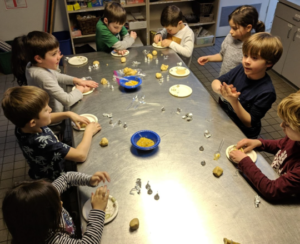 For over twenty years, Kerem Shalom has offered its monthly Sunday morning Holiday Preschool program. This delightful program is a perfect first introduction to Jewish education for 3- to 5-year-olds (the two years immediately preceding kindergarten).
Taught by Award-winning teacher Abbe Smerling

Stories, music infused with joyful Jewish values

Crafts, food, and friendship for children

Connection for parents and caregivers with one another and with our community

Our Sunday sessions run from 9:45 AM to 10:45 AM from September through May.
2020-2021 dates are Sundays: 9/13/20, 10/18/20, 11/15/20, 1/24/21, 2/7/21, 3/14/21, 4/11/21, and 5/16/21.
The hour-long program begins at 9:45 am.
Holiday Preschool is open to both members and non-members. There is a registration fee and tuition charge of $150 for members and $175 for non-members.
Early Elementary (Grades K & 1)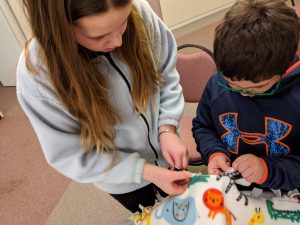 Weekday afternoon Hebrew School at Kerem Shalom begins with our Kindergarten program. Our teacher introduces the children to Jewish culture, emphasizing learning about the joys of Jewish holidays and celebrations through crafts, stories, and activities. In addition to the classroom experience, Kindergarteners participate in a weekly music and movement program.
Children in our first grade build upon what they have learned in Kindergarten, and also begin their study of the Hebrew alphabet. They work on reading one and two syllable words using the letters and vowels that they have mastered. In addition to learning about the holidays, they study Torah stories and participate in a weekly music and movement program. A highlight of our kindergarten and first-grade program is the Parent Connection, a weekly library/read-to-me program with special parent guides for reading and discussion. In addition to bringing the books home, parents are invited into the classrooms to read and share a story every week during the latter part of the year.
Middle Elementary (Grades 2-5)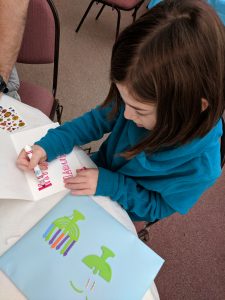 As they enter our middle elementary program, students begin to acquire formal synagogue skills. Second graders focus on completing their mastery of basic Hebrew decoding and begin learning to chant basic prayers. These skills are refined and expanded in grades 3-5, creating a strong foundation for becoming bar or bat mitzvah in their 7th-grade year.
In addition to the mastery of synagogue skills, each grade of the middle elementary program studies Torah, holidays and customs, Israel, tzedakah (righteous giving), and Jewish values. As part of their unit on Jewish identity, students in grades 4 and 5 intensify their focus on these two areas: Grade 4: My Jewish Family; Grade 5: Israel: the land, its history, and its people.
Middle School (Grades 6 & 7)
Grade 6: Grade 6 is the final year of "afternoon Hebrew school;" By the beginning of 6th grade, most students will have complete mastery of Hebrew decoding, and know most of the common Shabbat morning prayers. This leaves them free to master the Torah service, which, alongside reading Torah and Prophets, is the core of their Bar or Bat Mitzvah service. Students in 6th grade also learn about the overall structure of the Siddur and review the meaning of the various prayers. In addition to their focus on synagogue skills, 6th graders learn about Jewish history, mitzvah heroes, and continue their study of Torah, holidays, and values. As an outgrowth of their study on Jewish values, they run a tzedakah (righteous giving) fair for the younger students.
Our 6th grade Sunday morning Family Education program focuses on getting ready to become Bar or Bat Mitzvah. It consists of 3 temple-based sessions and a field trip to Mayyim Chayyim, Boston's Liberal Jewish Mikveh (center for ritual immersion), located in Newton.
Grade 7: Seventh graders attend classes on Monday evenings from 6:00-8:30 pm. In addition to their regular classroom studies, most 7th graders meet one-on-one with a Bar or Bat Mitzvah tutor every week. The 7th grade curriculum focuses on Exploring our Jewish Identity, Jewish life cycle, Tikkun Olam, Jewish culture, sacred Jewish music, and Israel. In addition to our regular faculty, 7th grade classes are taught by our Family Education Director and our Director of Education of Congregational Learning.
Post Bar/Bat Mitzvah (Grades 8-12)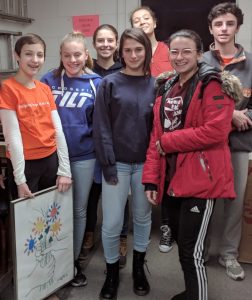 Post Bar/Bat Mitzvah students work toward achieving Chagigat Torah—when our synagogue community recognizes them for achievement in the areas of Torah (study), Avodah (synagogue life), and Gemilut Hasadim (social action volunteerism). In addition to participation in formal school programs, students accrue credits by assisting in our Hebrew School and Family Education programs, volunteering in social action activities, and participating in synagogue life.
Kerem Shalom offers students who have already celebrated their B'nai Mitzvah many opportunities to continue their involvement in our community, whether by formal study, participating in synagogue life, youth programs, or by volunteerism. Every spring, we recognize those teens who have accumulated 18 credits in these areas at our Chagigat Torah celebration.
For information on scholarships for post-Bar/Bat Mitzvah youth, click here.
Special Needs
Kerem Shalom's education program is built on the desire to educate every child and to work to find the best way to support individual learners as they grow. We believe that being part of the Jewish community is of utmost importance and do whatever we can to support special needs learners in our classrooms.
Kerem Shalom is a member of the Sudbury Valley Jewish Special Education Initiative. The initiative provides Kerem Shalom with a special educator who works with Hebrew language acquisition. The Initiative also provides Kerem Shalom with the services of a skilled special education consultant who observes classes and teachers and recommends accommodations for students with challenges. Our faculty of highly qualified educators work to match teaching styles to the learners in their classrooms.
When needed, Kerem Shalom's Education Director and Rabbi work with families to establish goals and modify the Hebrew school program for special needs students. Our goal for all students to participate as fully as they wish.