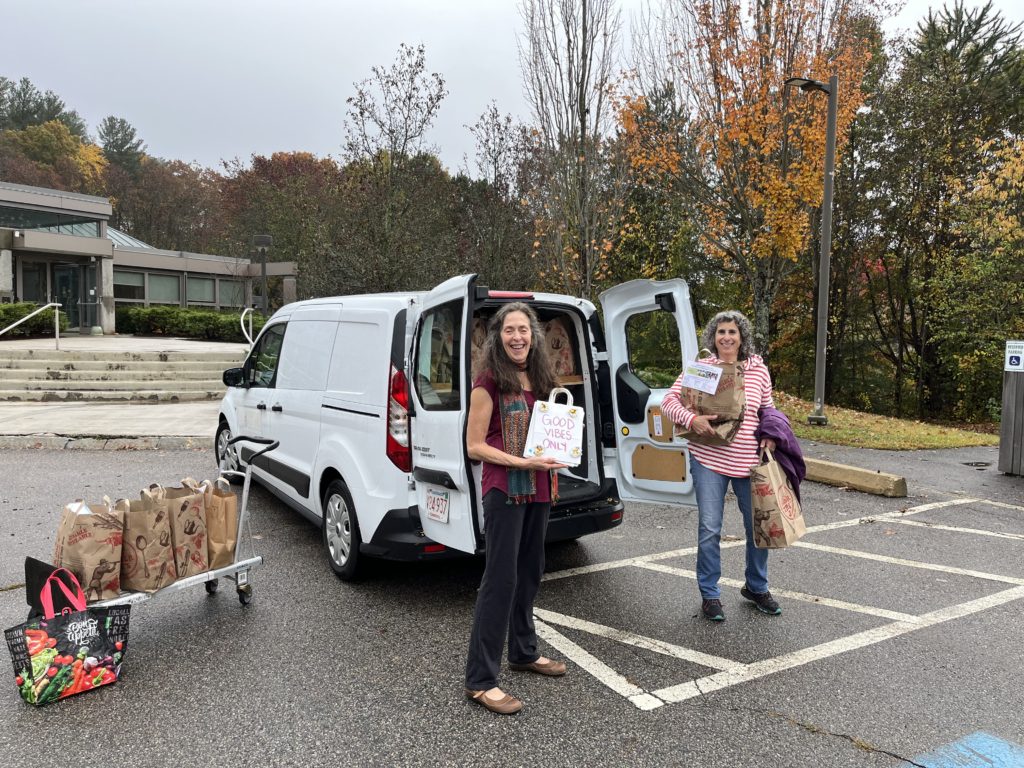 We are committed to Tikkun Olam (repairing the world) by supporting our greater Jewish community and beyond and engaging in local, national, and Jewish-focused activities.
During the pandemic, we focused especially on KS Racial Justice Initiatives and responding to Food Insecurity, as well as the work of the KS Chesed Committee.
Want to learn more? Contact us!
Immigration (Afghan evacuees ):
Anti-Semitism –
Racial Justice –

KS Immigration Task Force
Created in 2021, the Immigration Task Force (ITF) was created in response to the settlement of Afghan evacuees in our area.
We need help in several areas:
Fundraising – for rent and expenses especially until work is found. Donations in any amount are welcome.
Securing housing – Do you have or know of an apartment that is available? When possible, preference is given to communities that already have Afghans able to welcome the new arrivals
Moving furniture and setting up an apartment (usually during the workweek, business hours)
Buying household goods to set up a home.
Donating items to Household Goods in Acton. They will be providing furniture and other goods to the families.
Finding jobs
Helping children get enrolled in school
Helping the family learn English
If you are interested in joining Kerem Shalom's Immigration Task Force and becoming involved in this important initiative please contact Sue Viskin, .
Please consider making a donation to the KS Afghan Resettlement Fund!
CLICK HERE to donate. Select "KS Afghan Resettlement Fund" from the drop-down menu.
Thank you on behalf of the KS Immigration Task Force!
Kerem Shalom Food Insecurity Fund
In reaction to the coronavirus pandemic and its unprecedented consequences, Kerem Shalom created a Food Insecurity Fund from which donations are made to both Open Table and Jewish Family & Children's Service Family Table. Our congregation has a longstanding relationship with both organizations, and both are working harder than ever to service their clients. Click here to DONATE to the KS Food Insecurity Fund.
KS has sponsored an annual food drive during the High Holy Days with groceries collected at KS and then delivered to Open Table on Mitzvah Day. In addition, we have cooked food and supplied volunteers with their community meals, and donated and decorated school lunch bags. For more information about Open Table, visit opentable.org.
Kerem Shalom has worked with JF&CS Family Table for many years providing donated groceries on a monthly basis. Our current commitment is 35 cans of salmon and 45 cans of tuna that are delivered to JF&CS in Waltham on their distribution dates. KS volunteers have also spent time bagging groceries and delivering them to clients. If you have any questions about KS's connection to Family Table, please contact . For more general information about JF&CS Family Table, click here.
The Chesed (Caring) Committee (formerly Yad b'Yad)
The Chesed (Caring) Committee, is a group of Kerem Shalom volunteers who help members in times of need. Examples of our work include helping to organize virtual Shiva minyanim, providing guidance with ordering groceries online, and reaching out by phone to check in during the COVID-19 pandemic. If you need assistance—or if you would like to volunteer–please contact . You can also contact Rabbi Darby, Rosalie Gerut, or Nancy Kaplan by email or by leaving a message at 978-369-1223.
Mitzvah Day
Mitzvah Day ONE is our annual fall kickoff for major projects and includes both short-term and annual ongoing projects throughout the year. These include:
Open Table – providing weekly meals and kids' snack bags to families in need
Greater Boston Jewish Coalition for Literacy – providing reading tutors for children grades K-3
Family Table Food Pantry of Jewish Family & Children's Services – providing food for needy Jewish families in the greater Boston area
Household Goods – providing household goods and furnishings for individuals and families in need
Project Linus – providing blankets for comfort, warmth and security for pediatric patients
The Healing Garden – providing cheering gifts to cancer patients.
"Never underestimate the power of a small group of committed citizens to change the world. Indeed, it has never been done otherwise." – Margaret Mead
Mitzvah Day ONE is a well-subscribed, much anticipated, highly populated, volunteer-run event that our membership is proud of—a day on which we experience the power of a community effort towards Tikkun Olam, or healing the world.
Tzedakah, righteous giving, Gimilut Chasadim, acts of loving-kindness, and social action, all are aspects of Tikkun Olam. And our Mitzvah Day is filled with many acts of kindness, as over 200 members participate in projects, (either on or offsite), volunteer, and make donations.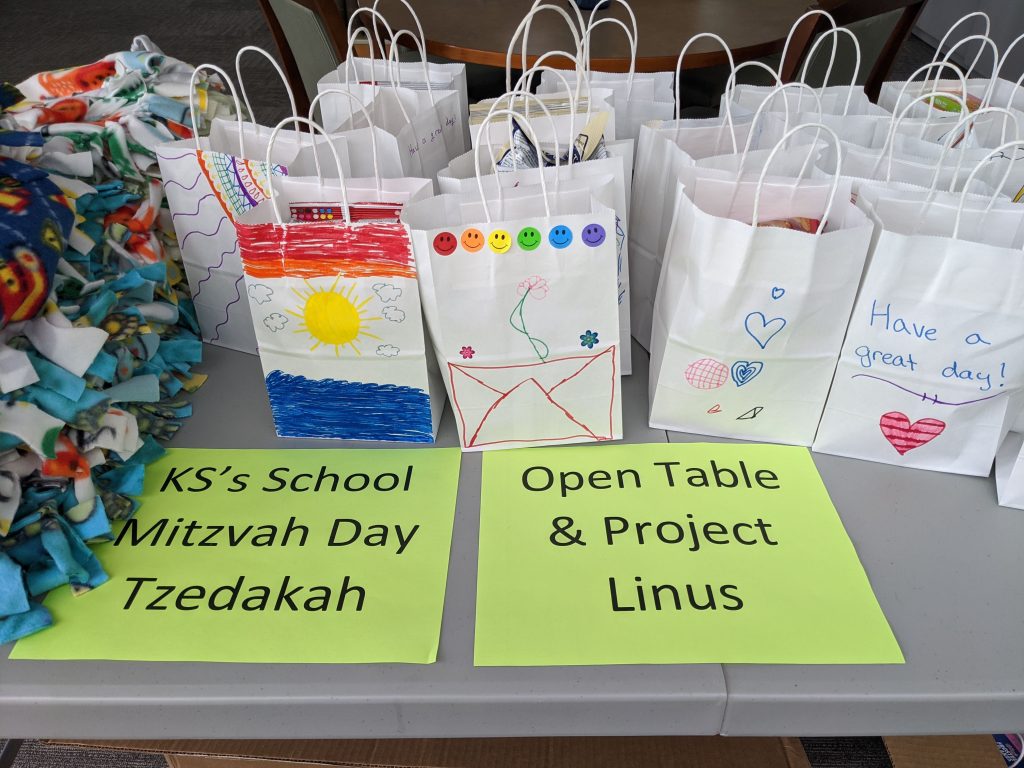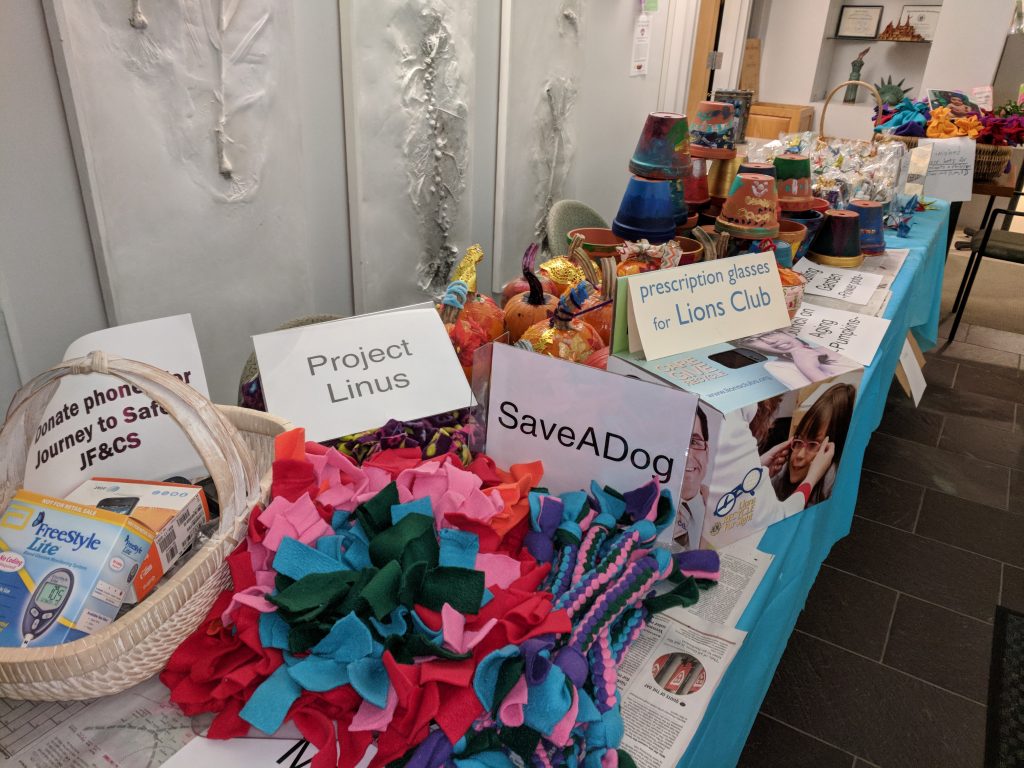 Household Goods: Helping People Make a Home
Household Goods, based in Acton, is an independent not-for-profit organization that provides household goods, free of charge, to people in need. Kerem Shalom volunteers staff the warehouse and help clients select goods the first Sunday of each month. A dedicated group of high school students has volunteered monthly since 2016, studying and working as part of the CJP's TELEM initiative.
Household Goods accepts donations of gently used household items that will help make a home comfortable. As an organization staffed by volunteers, they depend on the generosity of community members for goods, time and financial support.
To learn about volunteering, please contact Naomi Rosenfeld at . This is a wonderful activity for parents and children 11 and older and is a fantastic project for B'nai mitzvah families. If you're interested in TELEM Teens, please contact Nancy Kaplan at .
The Virginia Thurston Healing Garden
The Healing Garden, based in Harvard, provides expertise in therapeutic services and wellness education to the community at large, so that the Garden's unique and remarkable environment will reach as many people as possible.The Healing Garden's mission is to optimize the quality of life for all those affected by cancer, having served over 1500 clients affected by cancer as well as providing care for their caregivers and families. For information about Healing Garden contact JoAnn Simon at . At our Mitzvah Day Kerem Shalom provides hand-made gifts, healing lotions, teas, and potted winter bulbs to cheer the patients receiving services at Healing Garden.
Project Linus
Project Linus provides homemade blankets to children who are seriously ill, traumatized or otherwise in need, through the gifts of new, handmade blankets and afghans, lovingly created by volunteer "blanketeers." Throughout the year and on Mitzvah Day, knitters create squares for blankets at home and in our "knitting nook" in the lobby. Pat Lukens assembles the squares into blankets. KS students also make fringed no-sew blankets at our School Mitzvah Day.