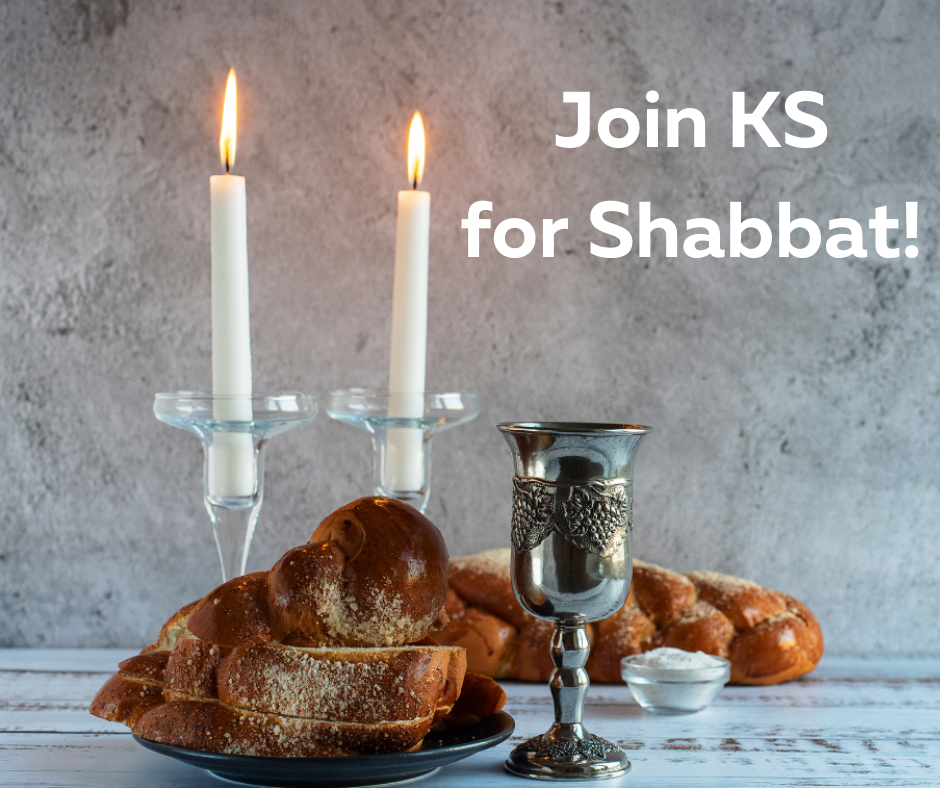 Please join Kerem Shalom to celebrate Shabbat together as a community!
Summer Erev Shabbat Services at KS

Friday, July 8, 7:30 pm – Rabbi Sam Pollak, Online Only
Join Rabbi Sam as he brings in Shabbat with music, poetry, and reflections on the weekly Torah portion.

Friday, July 22, 7:30 pm – David Orlinoff, Online Only
Join David Orlinoff as he delivers a d'var Torah that links the weekly portion to an obscure Jewish connection to the United States presidency. We'll observe our recent custom of wearing a white shirt or blouse during summer services. 

Friday, August 5, 7:30 pm – Marty Plotkin, In-Person Only
Join Marty Plotkin for Shabbat. In the still heat of August, we gather in our cool sanctuary to find community and celebrate Shabbat. It's a rich moment in the calendar: the ninth (Tisha) day of the month of Av. It would be a fast day in commemoration of the destruction of the temple in Jerusalem, except…it's Shabbat! So the fast is delayed to the next day. The Torah portion is Devarim, the start of the book of Deuteronomy, in which Moses begins his panoramic retelling of the people's journey to the doorstep of the promised land. Also, being the Shabbat just before Tisha B'Av, it's Shabbat Chazon, the Shabbat of Vision. So join us for song, prayer, and contemplation of the significance of history and imagination.

Friday, August 19, 7:30 pm – Nancy Kaplan & George Peabody, In-Person Only
Join Family Engagement Specialist, Nancy Kaplan, and her partner in love and music, George Peabody in ushering in the "oneg"—the joy—during an evening of song. Shabbat is a time of love, joy, play, and contemplation. During this unprecedented time of struggle, music also inspires us and calls us to action. Join us in singing songs for love and peace and justice. We will also explore alternative melodies for our liturgy including songs by Lennon/McCartney, Graham Nash, James Taylor, Bob Franke, Carrie Newcomer, Paul Simon, Louis Armstrong, Garnet Rogers, traditional Irish ballads, King Solomon, and more, and prayer melodies and chants by Shefa Gold, Dan Nichols, Rabbi David Shneyer, Rick Recht, Sheldon Low, Norman Blake—plus original tunes by Nancy and George.
How to Register for online Friday Erev Shabbat Services (7:30 pm)
and Friday Shabbat Around the Table Services (7:30 pm)
CLICK HERE to register for the Zoom link.
How to Register for online Saturdays Services & B'nai Mitzvah
10 am-noon
CLICK HERE to register for the Zoom link.
How to Register for online Tot Shabbats
CLICK HERE

COVID-19 POLICY:
CLICK HERE for the COVID Policy.

Prayer Books
For Kerem Shalom's entire Shir Ha Lev prayer book, CLICK HERE. (192 pages)
For Kerem Shalom's consolidated Erev Shabbat Shir Ha-Lev Siddur, CLICK HERE. (51 pages)