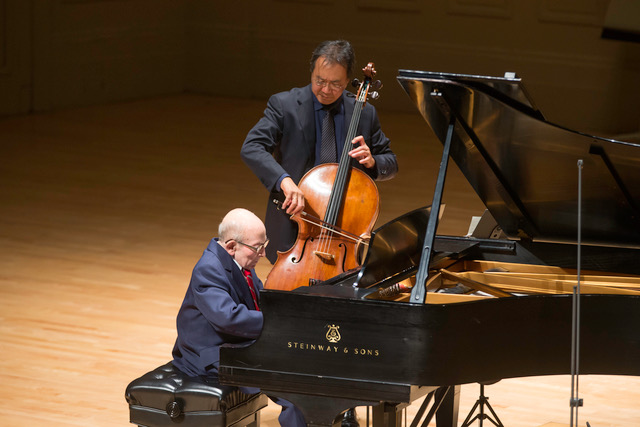 Join KS online on Sunday, November 8, 2020, from 10:30 am to 11:45 am for the L.E.D. ("Learn, Explore, Discuss") Talk—Music Speaks: The Musical Legacy of the Terezin Concentration Camp, including insights by cellist Yo-Yo Ma, on the anniversary of Kristallnacht.*
This program, featuring a powerful and remarkable documentary by Michael Shocket on music composed at the Terezin concentration camp, will be followed by comments from cellist Yo-Yo Ma.
The captioned, documentary video, Music Speaks by Michael Shocket, focuses on Terezin, a Nazi concentration camp near Prague, where music played a central role among Jewish composers, musicians, and singers interned in the camp during the 1930s. In the video, George Horner, a 90-year-old survivor of Terezin, is shown performing at Boston Symphony Hall with Yo-Yo Ma, during a 2013 concert to benefit the Terezin Music Foundation. Yo-Yo Ma's comments, prepared specifically for this program, focus on the role of music as a lifeline in times of unimaginable struggle and is an inspiration to all of us today. During the program, Michael Shocket, will describe what he learned on his journey to create his film and will participate in a Q and A.
CLICK HERE to register for the Zoom link.
*On the night of November 9, 1938, violent anti-Jewish demonstrations broke out across Germany, Austria, and the Sudetenland region of Czechoslovakia. Over the next 48 hours, violent mobs, spurred by antisemitic exhortations from Nazi officials, destroyed hundreds of synagogues, burning or desecrating Jewish religious artifacts along the way. Acting on orders from Gestapo headquarters, police officers and firefighters did nothing to prevent the destruction. All told, approximately 7,500 Jewish-owned businesses, homes, and schools were plundered, and 91 Jews were murdered. An additional 30,000 Jewish men were arrested and sent to concentration camps. Nazi officials immediately claimed that the Jews themselves were to blame for the riots, and a fine of one billion reichsmarks (about $400 million at 1938 rates) was imposed on the German Jewish community.
The Nazis came to call the event Kristallnacht ("Crystal Night" or "The Night of Broken Glass"), referring to the thousands of shattered windows that littered the streets afterwards, but the euphemism does not convey the full brutality of the event. Kristallnacht was a turning point in the history of the Third Reich, marking the shift from antisemitic rhetoric and legislation to the violent, aggressive anti-Jewish measures that would culminate with the Holocaust. (U.S. Holocaust Museum)