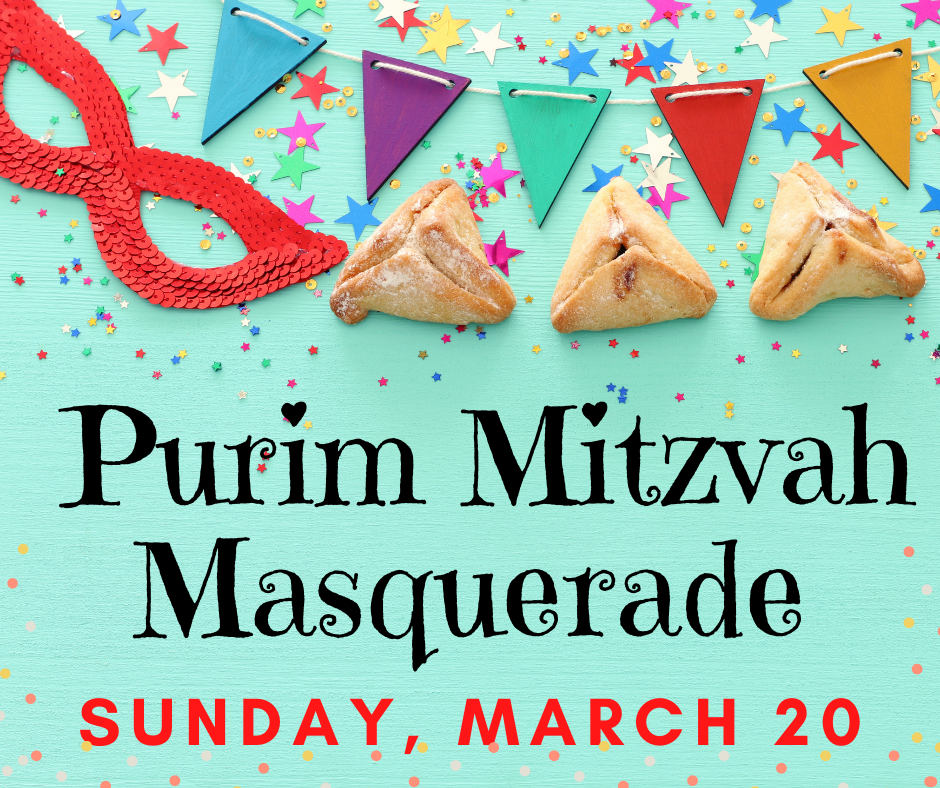 Sunday, March 20, 2022
1 pm
In-person only

Celebrate with KS at our Purim Mitzvah Masquerade!
Join us for the afternoon at our brand new, festive, Purim celebration for all ages (adults kids)—centering on Mitzvot and Tzedakah!

Costumes encouraged, masks required!

Carnival Games • Bouncy House • Snack Bag Packing • Costume Parade • Crown Decorating • Food & Household Drive to Benefit Open Table • Tzedakah • Hope and Healing Quilt • Hamantaschen Sale • Get Out the Vote Big Send • Plus more!

1:00 pm Children's Purim Spiel and Sing-a-long, presented by students
1:30 pm Mitzvah Projects & Games for Families with Children
2:30 pm Megillah Reading for All Ages
2:45 pm Mitzvah Projects & Games for Adults
3:30 pm Purim Variety Show and Singalong for Grown-Ups

Suggested donation: $5/person (max $20/family)
Cover donations to benefit Kerem Shalom and the following Tzedakah causes:
• Kerem Shalom's Food Insecurity Fund (benefiting Open Table and JF&CS Family Table)
• Kerem Shalom's Afghan Resettlement Fund
• The World Union of Progressive Judaism's Ukraine Crisis Fund
• Truah: The Rabbinic Call for Human Rights• Ruderman Family Foundation

Seeking Volunteers! Preteen, teen, and adult volunteers are needed! Please contact Nancy Kaplan to help out:.

Our Mitzvah Projects – New for Purim at KS!
Open Table Food Pantry's Goods Drive to Support Local Afghan Families
High Need food items:•
Loose Green Tea (not teabags)• Household cleaning and personal care items
• Toilet Paper
• Feminine Hygiene Products
• Laundry Detergent
• Dish Detergent
• Shampoo
• Conditioner
• Body Soap
• Paper Towels• Dish Sponges
Drop-off donations at KS by Sunday, March 20.
Open Table Kids' Snack Bags
We'll be packing snacks for Open Table to fulfill the Purim mitzvah of matanot l'evyonim (gifts for the poor).
We request families with students in the following grades to donate as follows:
Preschool and Kindergarten: 8 cans or single-serve Beefaroni, ravioli, SpaghettiOs with meatballs, or similar
Grades 1-2: 6 boxes of macaroni and cheese
Grades 3-4: One 8-pack of crackers with cheese plus 5 cans or single-serve Beefaroni, ravioli, SpaghettiOs with meatballs, or similar
Grades 5-6: 3 boxes (8 bars/box) whole-grain snack bars: granola, protein, or fruit-based bars

Drop-off donations at KS by Sunday, March 20.
Help KS's Racial Justice Task Force Get Out The Vote: Join us for "The Big Send"
Support our effort to send 10,000 letters to encourage people from historically underrepresented communities to register and to vote! Kerem Shalom is partnering with Vote Forward, a non-partisan, nonprofit organization whose mission is to empower grassroots volunteers to help register voters from under-represented demographics and encourage them to vote.
We'll provide the letters, mailing lists, envelopes, and instructions—everything you need to get started. Join us and be a part of "The Big Send"!
Afghan Adjustment Act Postcard Campaign
Join us in writing postcards to our representatives in Washington, D.C. to ask them to pass the Afghan Adjustment Act. We will provide the postcards, stamps, and sample language. Many of the Afghans who were brought here in August are Humanitarian Parolees, a status that requires them to leave the U.S. after two years. KS, as part of the Concord Interfaith Afghan Family Support Team with First Parish, is supporting families with this status. The Afghan Adjustment Act will allow our new friends to become eligible for Green Cards and have the right to remain here. It is vital that our representatives know that passing this act is important to us!
Add Your Mark to KS's Hope and Healing Quilt
Last year, with help from a generous grant from the Ruderman Foundation, we began a project to create a quilt that will express how the COVID pandemic has affected us. We'll have on hand several squares inscribed with words and phrases that members submitted during our High Holy Days services, while sharing what they are grateful for. This quilt is a distillation of these expressions of gratitude.
We invite you to "add your mark" and color to a square of our community's "canvas" (with the fabric markers provided)—that resonates with your reflections and experiences. No artistic talent is required! This project will be a beautiful and poignant representation of our community coming together in hard times.
Sales to Benefit Charitable Causes
Hand-made Ugandan crafts – Proceeds to support Clover Foundation, providing early education, health, and nutrition support for children in Kampala, Uganda
Pottery by Susan Chormann of Wholehearted Pottery – Proceeds to support FNE International, advancing housing, health, and education in developing communities in Nicaragua and Peru
Origami Earrings by Lisa Corfman – Proceeds to support Kerem Shalom's Rabbi Michael Luckens Scholarship Fund.
We hope you'll join us at the KS Mitzvah Masquerade!