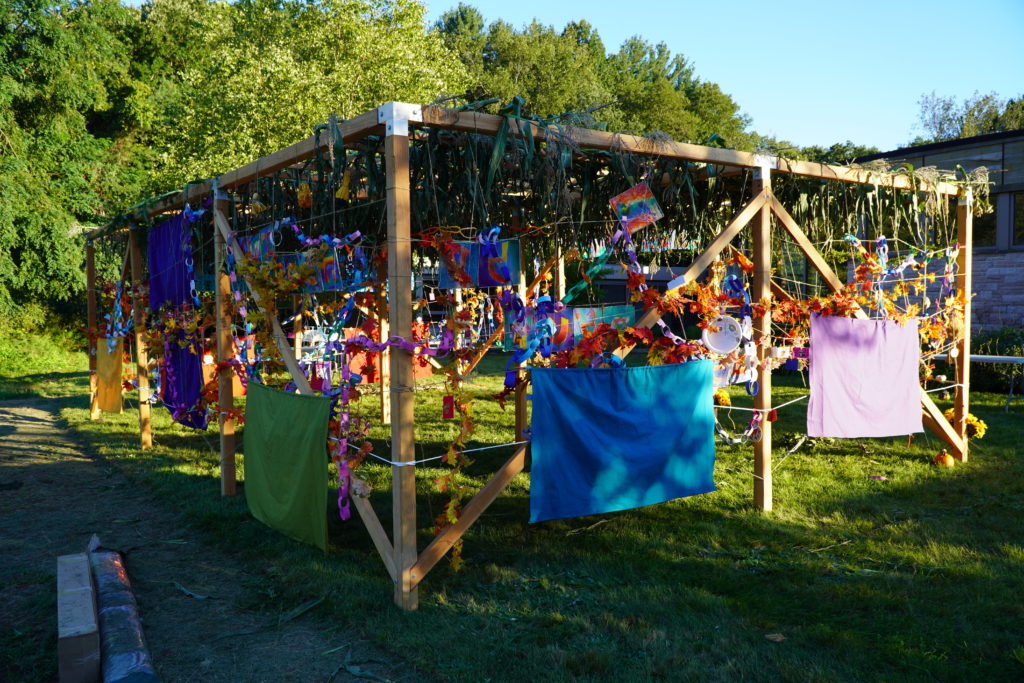 Join us for THREE great events!
KS Sukkah Raising Brunch
Sunday, October 9, 2022*
10:30 am
In-Person Only
Please join us at Kerem Shalom for our Sukkah Raising Brunch! Join Rabbi Darby and our KS community as we come together to build and decorate our sukkah!
Whether you're two or seventy-two, there will be fun for you as we celebrate the joy of being outdoors together and the bounty of our harvest—with friends and food. Enjoy coffee, hot chocolate, cider, bagels, and donuts!
Bring some leafy branches for the s'khakh (roof covering)!
Bring a gourd or two to help us decorate!
Bring your frisbee, soccer ball, football, or juggling sticks!
Special thanks to the KS Men's Group for volunteering to assist with the sukkah raising and KS member Graham Movitz, creator of our enlarged community sukkah!
*In the case of inclement weather, the brunch will be held indoors.
R.S.V.P. by Thursday, October 6 to Nancy Kaplan at .

CANCELLED: Community Dinner in the Sukkah
Friday, October 14, 2022
We are sorry to announce that due to impending inclement weather, the Community Dinner in the Sukkah, scheduled for Friday, October 14, has been cancelled.
We hope you will join us for our Simchat Torah celebration and dinner on Monday, October 17! See below for details.
Simchat Torah Celebration & Dinner
Monday, October 17, 2022
5:30 pm – Dinner (Pizza, Salad, & Ice-Cream)
Suggested donation: $5 per adult (no cost for students)

6:30 pm – Simchat Torah Celebration & Dancing –
Led by Rabbi Darby & Rosalie with Kerem Shalom's Klezmer Band.
In-Person Only
Masks are required when not eating.
Going through the High Holy Day season can certainly feel very heavy, and it is. In the wisdom of Jewish tradition, we learn that one of the first things we should do following the High Holy Days is to have an amazing party! So we will!
Please join us at KS for dinner at 5:30 pm, followed by a fabulous gathering at 6:30 pm. There will be high-spirited live music, Israeli dancing led by Alex Krosner, sweet noshes, and spirits to share.
Simchat Torah means "joy of the Torah," and what better way to experience joy than to celebrate in community!
We will also unroll the entire Torah and read the final concluding words as well as beginning again with the opening verses. Children under the age of 13 will be invited for their once-a-year opportunity to have an aliyah at this moment.
After fasting, repenting, and atoning together as a community on Yom Kippur it feels so important to also be able to party together! I am so looking forward to being able to celebrate with all of you on Monday evening, October 17.
Kindness and Shalom,
Rabbi Darby

R.S.V.P. by Wednesday, October 12 for the Simchat Torah Pizza Dinner to Nancy Kaplan at .

Please also email Nancy to request dairy-free, GF, or vegan options. Let us know of food allergies or restrictions so that we can accommodate your needs.