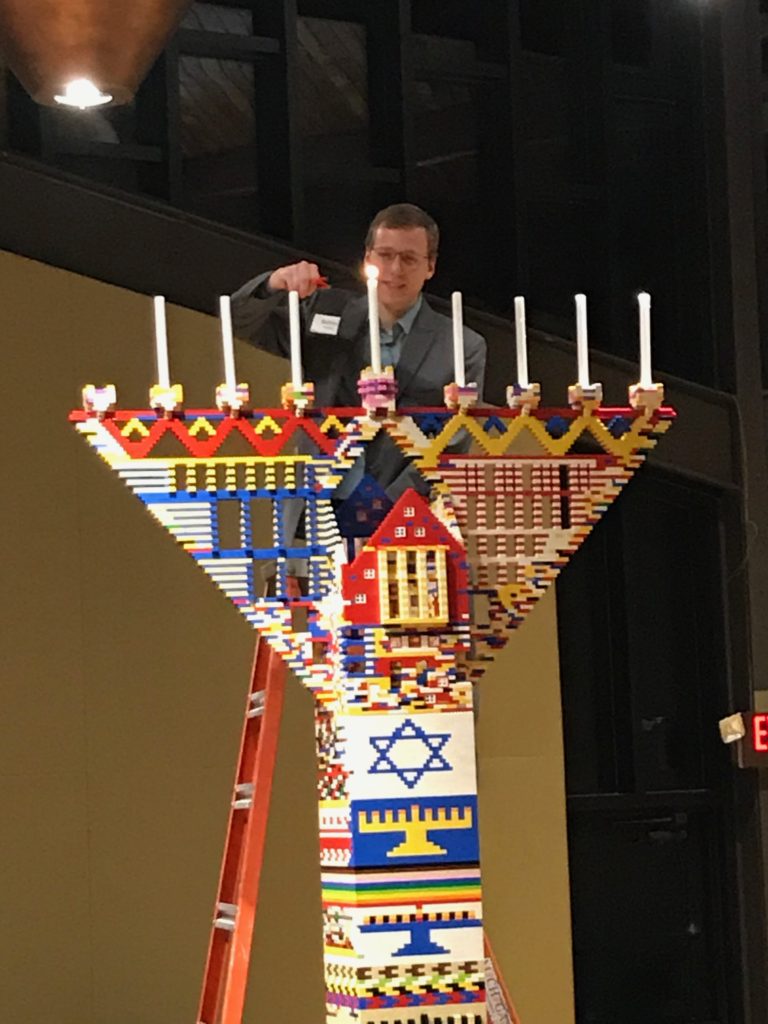 Join the KS community as we celebrate the miracle, warmth, and light of Chanukah!
Sunday, December 18, 2022
3-5 pm LEGO Menorah Building
5 pm – Community Candle Lighting
5-6 pm Community Chanukah Dinner
6-8 pm KS Adult Chanukah Celebration
No cost to attend
In-Person only
LEGO Menorah Building
Help build the world's tallest LEGO menorah! KS families will work together to build a giant menorah out of 100,000 LEGO bricks and over 12 feet tall…which we'll then light together to celebrate the First night of Chanukah! Open to member families with children in grades 1-7 (older siblings welcome). Children must have at least one adult family member with them to participate.
Stay for a Chanukah dinner (latkes!) at 5 pm, followed by the KS communal Chanukah celebration with singing, dancing, and the joy of Chanukah at 6 pm.
Bring your own menorah from home to light together!
Email Rabbi Sam at to sign up!
Building begins at 3 pm sharp!
Presented by Stephen W. Schwartz AIA, Architect of SWS Architects, Livingston, New Jersey.
Consistent with all KS Hebrew School events, masks will be encouraged for this event but not required.
Dinner & Celebration
Join us for a community candle lighting at 5 pm. Bring your own menorah from home with two candles ready to light for the first night.
Stay for Chanukah dinner (latkes!) with a community sing-a-long, Dreidel games, and activities for all.
Then join the KS Adult Chanukah Celebration at 6 pm in the Sanctuary where we will enjoy an additional menorah lighting, singing, and dancing. We will also have an opportunity to hear and discuss deeper versions of the Chanukah story and experience the simple joy of Chanukah.

CLICK HERE to RSVP by Thursday, December 8.

---
Hershel and the Hanukkah Goblins
Monday, December 19, 2022
5:50 pm – 6:15 pm (end of Hebrew School Reimagined)
In-person only
Join KS students for a celebration of the second night of Chanukah! Experience a special live performance of the classic tale Hershel and the Hanukkah Goblins, put on by our Grade 3-4 Drama elective-plus Chanukah songs and a communal menorah lighting.
All are welcome!
---
KS-Concord Community Chanukah Celebration
Wednesday, December 21, 2022
5-6 pm
At Rideout Park, 61 Laws Brook Road, West Concord
In-person only
Kerem Shalom and the Town of Concord invite the entire community to celebrate Chanukah at Rideout Park! Join Rabbi Sam, Rosalie, and Nancy for a menorah lighting & blessings, music, craft goody bags, and latkes from Debra's Natural Gourmet.