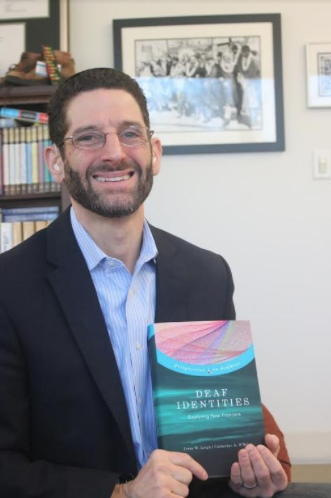 Rabbi Darby Leigh was featured in the Concord Journal's February 17, 2020, issue in an article highlighting his contribution to Deaf Identities —Exploring New Frontier and his role in bringing ASL classes and an ASL chorus to Kerem Shalom.
From the Journal:
Kerem Shalom, 659 Elm St., Concord announced that the congregation's rabbi, Darby Leigh, of Newton, is the second author of the chapter, "Religion and Deaf Identities" in the newly released book "Deaf Identities — Exploring New Frontier."
The book by Irene Leigh, Leigh's mother, and Catherine O'Brien, offers an academic, multicultural perspective on deaf identities and experiences.
Rabbi Leigh is one of few deaf rabbis in the world. As an expert in Torah, who has travelled extensively teaching Torah analysis, he could offer the full analysis of moving in deaf and non-deaf religious worlds. . . .