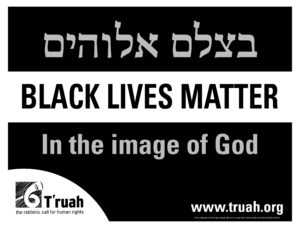 The Kerem Shalom Racial Justice Working Group has planned a series of opportunities for the KS community to join together around Racial Justice action.
What can you DO to pursue racial justice? Learn about what initiatives Kerem Shalom is taking and how you can participate! Click here for details. 
We are challenging the congregation to make contact by postcard, letter, or text to 3600 registered voters in under-represented communities who have been the target of voter suppression. Click here to read more.
On September 27, 2020, Kerem Shalom's Racial Justice Task Force is holding a virtual letter-writing party. We will be writing potential voters and encouraging them to vote. Read more and register.
On August 28, 2020, over 600 Jewish organizations, synagogues, and congregations, including Kerem Shalom, signed this ad in The New York Times stating, "We say unequivocally: Black Lives Matter."
We are proud to join them. Our Jewish community must continue to rise up for Black lives—including Black Jews—with all of our spiritual, political, and intellectual resources.
Please click here to see all upcoming events. Contact socialjustice@keremshalom.org with questions.