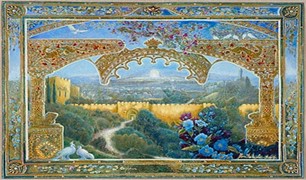 Sundays: November 6, 13, 20, 27, and December 4 & 11
5:00 pm – 6:30 pm
In-Person at Kerem Shalom
Registration and payment due by October 19 to
$150 for members; $225 for non-KS-members
(Couples: 10% discount)
Rabbi Alan Ullman brings Torah to life by facilitating dynamic interaction and questioning of text, enabling us to view Torah in its ancient context as well as in its relevance to our lives today.
Rabbi Ullman helps us to see the wisdom of Torah as a way to guide our own spiritual journeys and to find the sacred in our everyday lives. A brief text is introduced at the beginning of each class. No previous knowledge or experience is required.
This will be Rabbi Ullman's final Torah Study Series at Kerem Shalom.