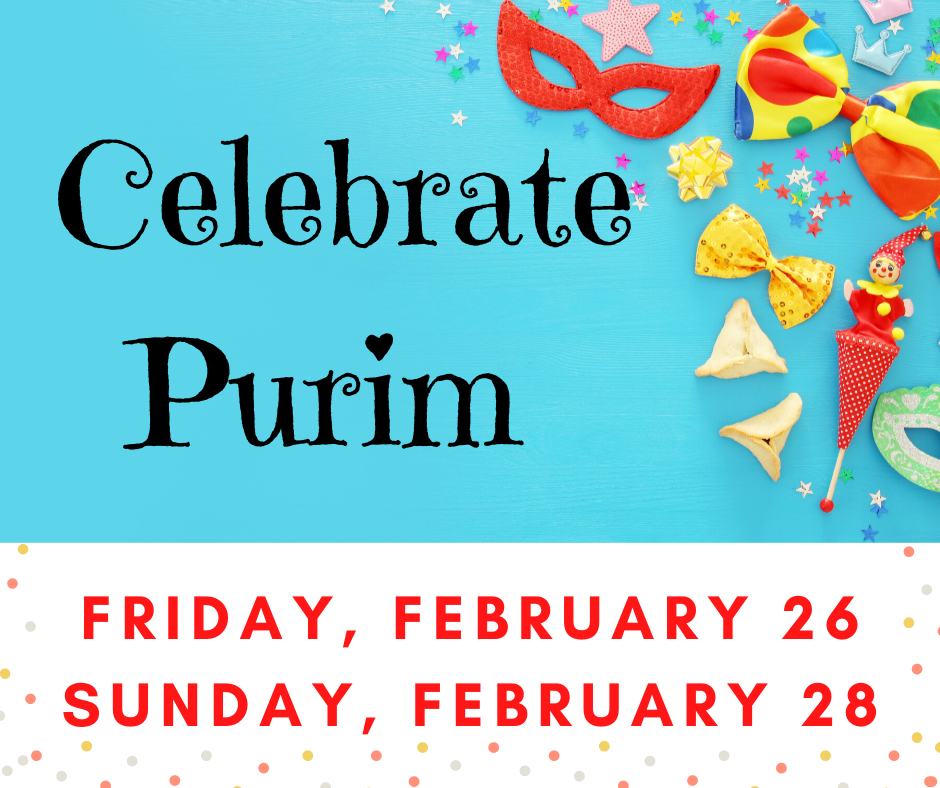 Purim Tot Shabbat
Friday, February 26, 2021
5:45 pm
Join Nancy, Rabbi Darby, and Rabbi Sam for a joyful Purim Tot Shabbat!
We will share a Purim story and songs, celebrate Queen Esther's bravery, and we'll learn about how she and her cousin Mordechai saved the Jewish people.
CONTACT: to register for the Zoom link.

Purim Shabbat
Friday, February 26, 2021
7:30 pm
Join KS for a Purim Shabbat as we read from the Megillah and share the story of Purim, enjoy a Purim spiel, and have a great time (visually) drowning out the villain's name (A.K.A. "He who should not be named")! Enjoy informal shmoozing after the gathering and BYOB!
REGISTER HERE

Food Drive & CAR-nival
Sunday, February 28, 2021
12 pm – 2 pm
Kerem Shalom is hosting a socially distanced drive-up. Drive-in, Drop-off, Purim Food Drive for Open Table in the KS parking lot. Please sign up at the link below to make a food or monetary donation. Thank you for helping our KS community continue to support so many who continue to be in need.
See the Weekly email to sign up to donate to the Food Drive!
CAR-nival
(Yes, that's right—a drive-though carnival from your car!)Come in costume!
• Guess How Many Fish – Guess how many Swedish Fish it takes to fill a giant jar. (The person with the closest guess wins ALL the FISH!)
• Hamentashen – Take home a bag of delicious Purim cookies, provided by KS.
• Beanbag Toss – Throw a beanbag at Haman's face, right from your car.
• Prize Board – Come in costume to choose a prize from our prize board.
• Trivia – Show how well you know the Purim holiday in our trivia game.
• Plus more surprises and special appearances!