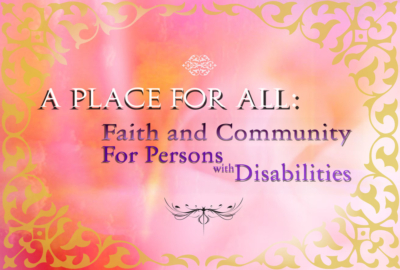 Sunday Feb 2 at 10:30am – Free
It is a startling number. According to the CDC, 1 out of 5 Americans has at least one disability. The fact is, we're all going to be disabled one way or another. Time takes care of that. Things happen in life. But how we cope with that disability and how we deal with other people with disabilities – well, that's a choice. A learned response. We need to change attitudes, remove barriers, and create a truly inclusive community.
A Place for All: Faith and Community for Persons with Disabilities is a unique interfaith documentary, produced in conjunction with the New York Board of Rabbis, with the support of an extraordinary range of faith groups including the National Council of Churches, the Evangelical Lutheran Church in America (ELCA), the Islamic Society of North America (ISNA), the United Methodist Church, the United Church of Christ and the U.S. Council of Catholic Bishops.
A Place for All explores the courageous stories of persons with disabilities as they succeed in making their faith communities truly inclusive. It features people such as Rabbi Darby Jared Leigh, a rabbi at Congregation Kerem Shalon in Concord, Massachusetts and one of the handful of deaf rabbis in the world; members of ELCA's DAYLE program, where differently abled youth unite at the 40,000 strong triennial Evangelical Lutheran youth gathering; 5 year old Max Rubin, who suffers from cerebral palsy; Rev. Beth Lockard, pastor of Christ the King Deaf Church; and Brandon Kaplan, a severely disabled boy with limited sight and speech who had the privilege of becoming a Bar Mitzvah.
For more Adult Programs, check out Kerem Shalom's latest catalog.